Jennifer and James' collaborative work is built upon a shared interest in language, poetry, and how sensation can become a form of translation. They are drawn to a haptic engagement with words, of reading through feeling. These impulses towards alternate ways of understanding lead them to consider the relationship between text and textile.
Jennifer received her MFA from the Fiber and Material Studies program at SAIC in 2017, James received his MFA in Printmedia from SAIC in 2017.
WORKSHOPS WITH ENVISION UNLIMITED
Drawing ~ J + J passed around a coarse blanket and asked all participants to remark on how it felt. Using those sensations as a starting point, the group then made drawings.
Paper Weaving ~ After photocopying all of the group drawings, J + J cut them into strips and taped together long strands of the drawings. This drawing thread was then used to make a large scale weaving, an interlacing of all of the drawings and of sensations.
Spinning ~ Using scrap fabrics and selvedge edges, participants tied together fabric chains. With a power drill at one end, and a person holding at the other end, the group spun long colorful rope material.
Square Dancing ~ With this long rope material, the group set up a human loom. Some people held the warp, which was attached to the fence, while another person "danced" the weft rope through the big warp. A square dance! A very gymnastic weaving.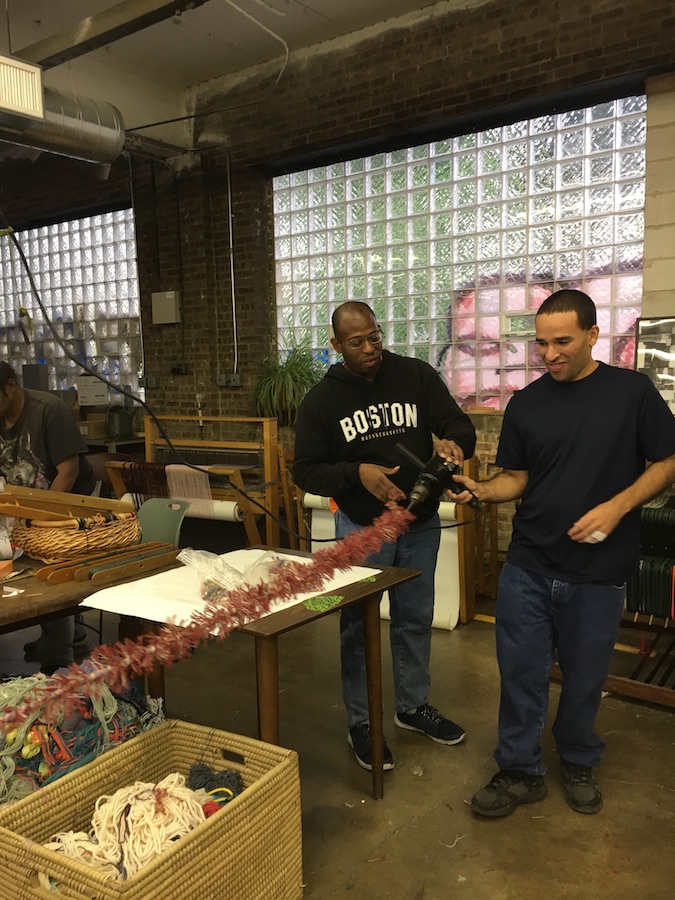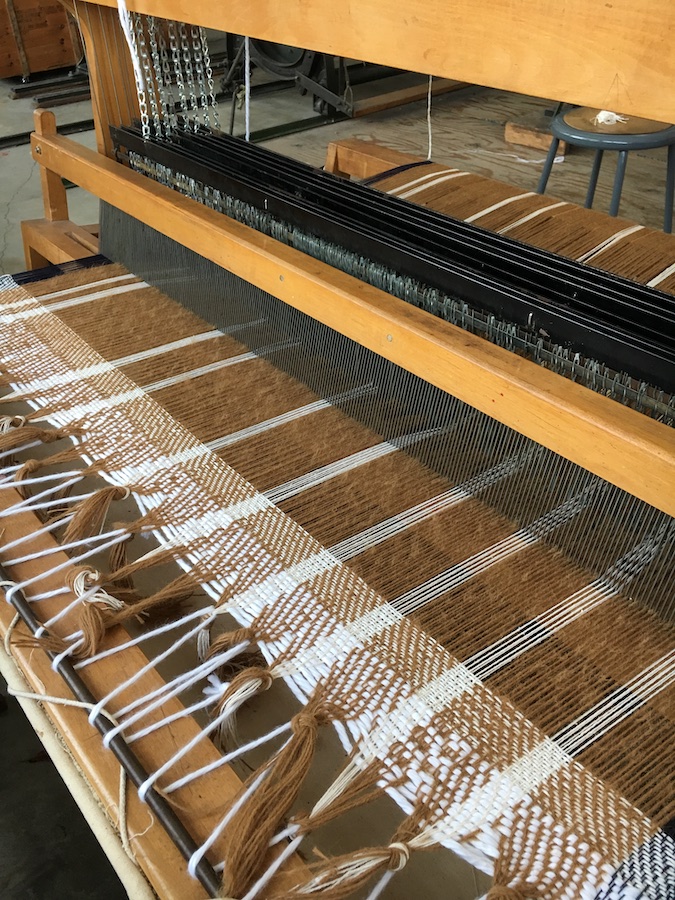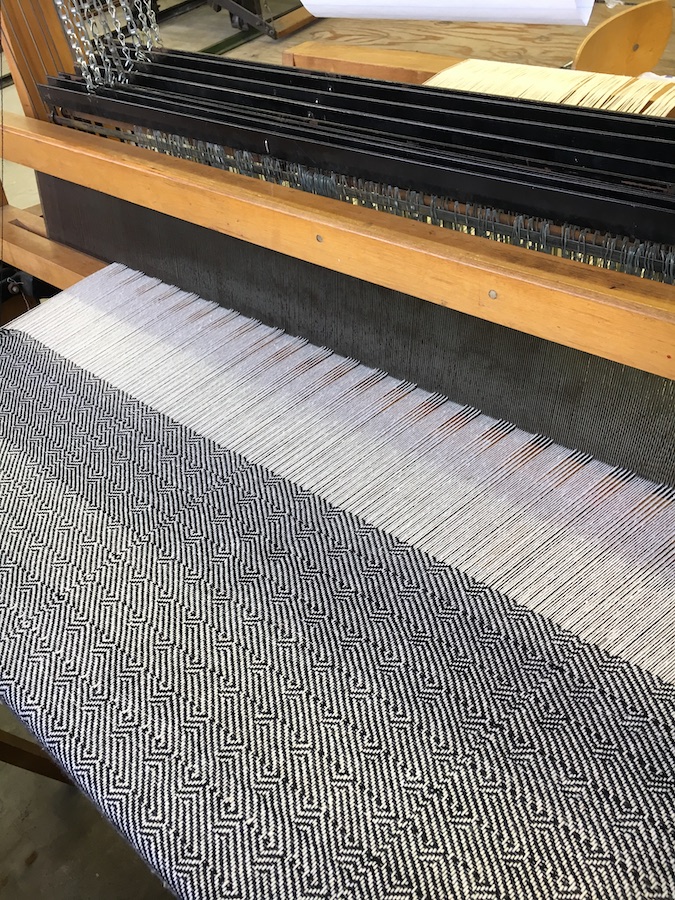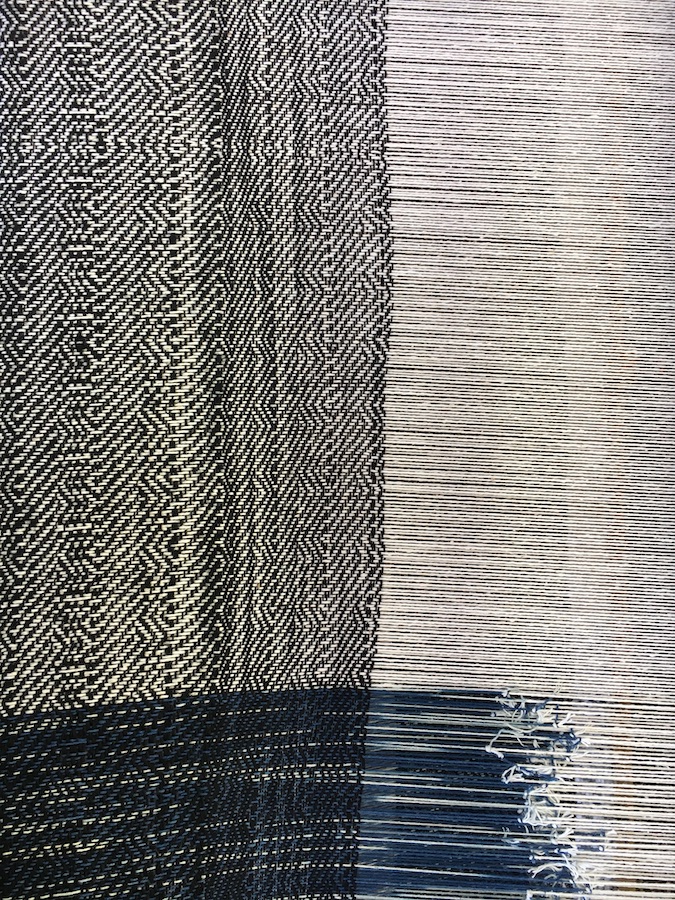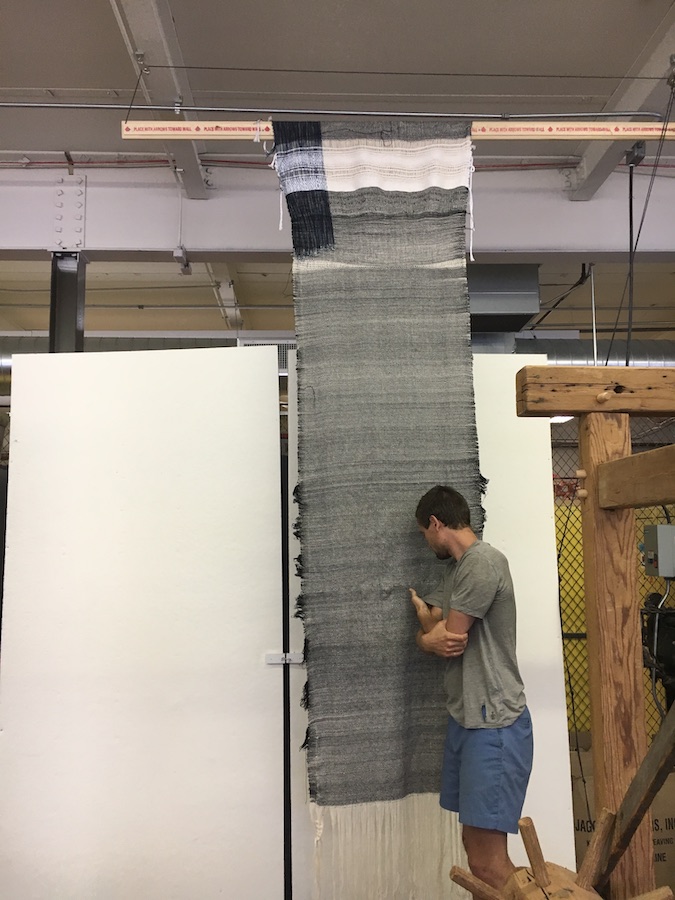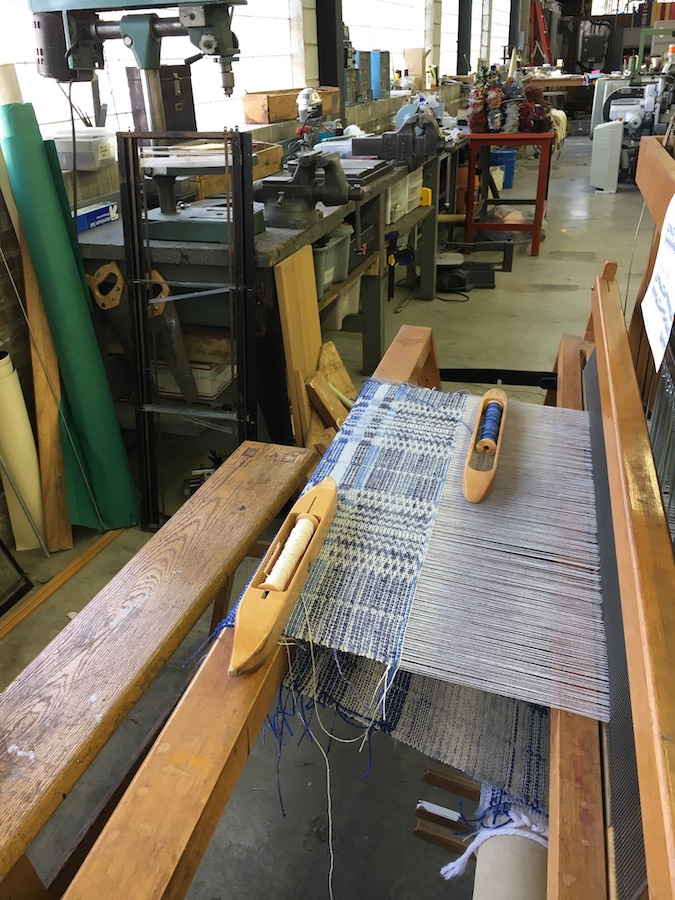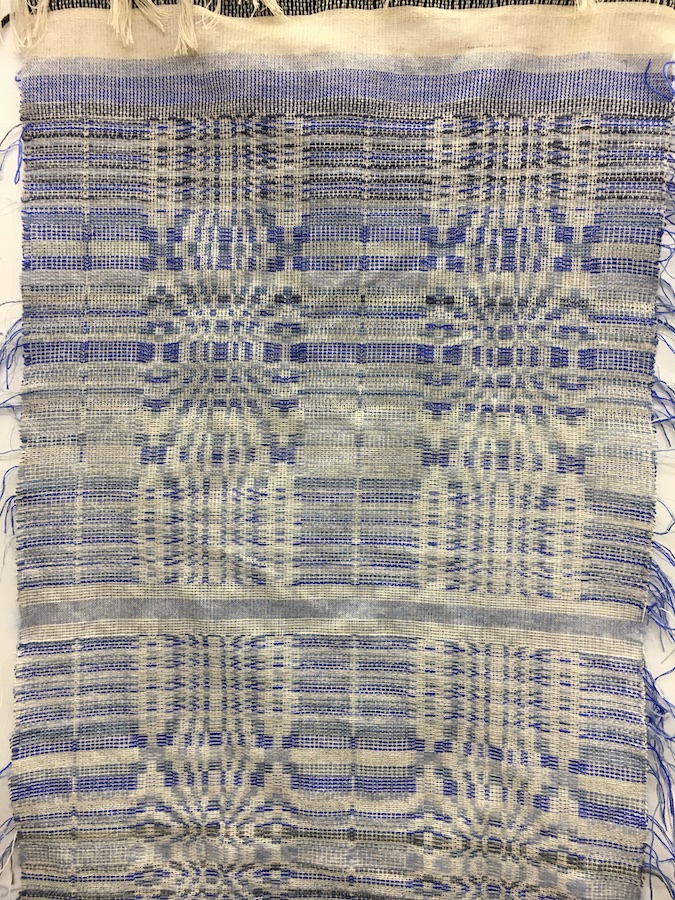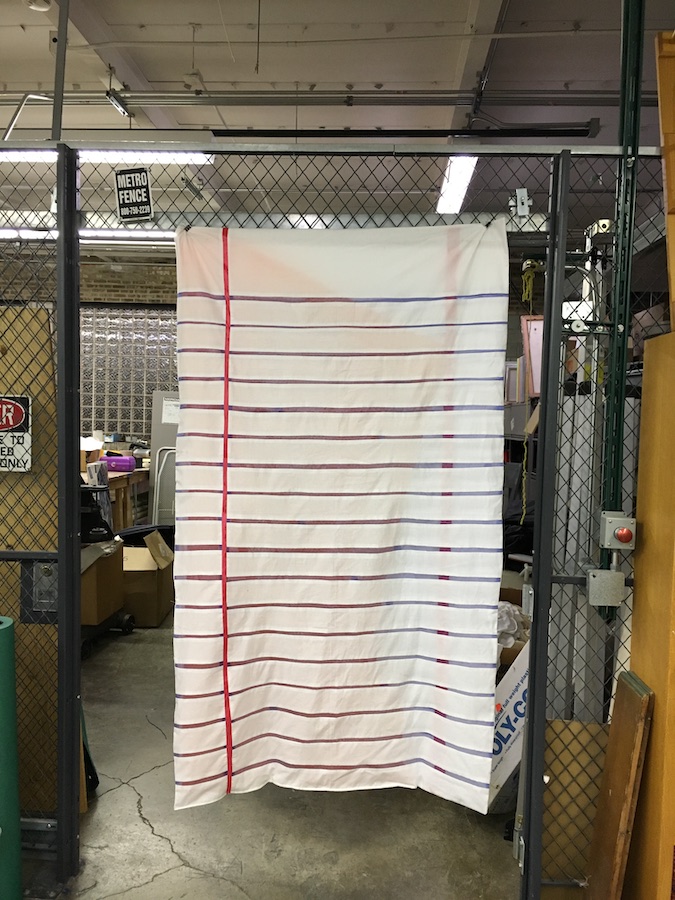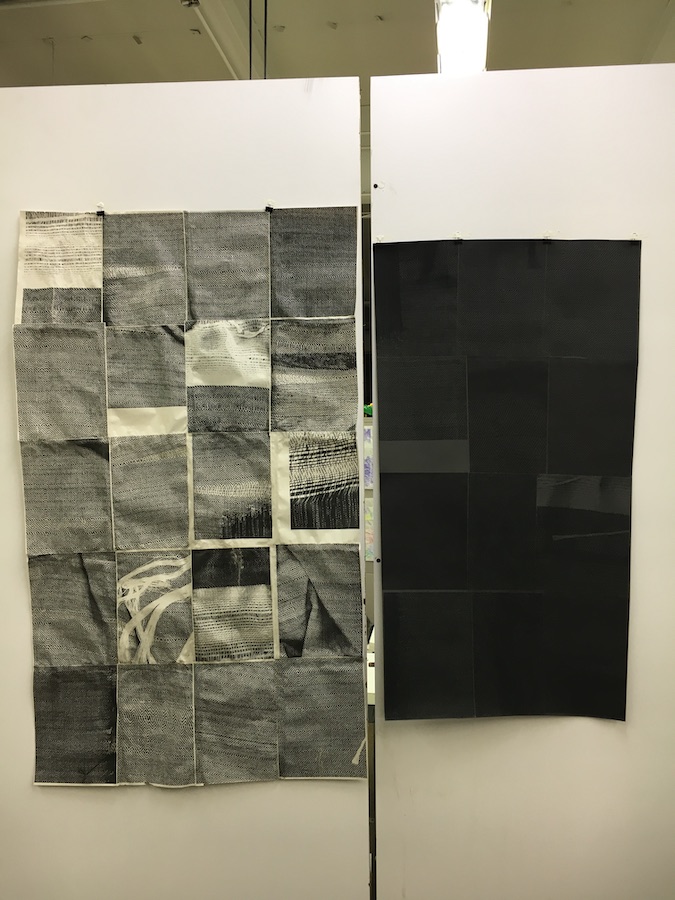 STUDIO
During the month-long residency, Jennier and James utilized the eight harness loom to sample different patterns. Beginning with an interest in language and the pattern and cadence of speech, they translated words and phrases into woven blankets. After toying with fancy twill structures, Jennifer and James came upon colonial American overshot weave coverlets and became fascinated with the Sunrise Coverlet in particular. They replicated this traditional overshot weave, typically woven from bleached and indigo-dyed cotton threads, and kept to the white and blue scheme while employing their own hand-dyed fibers, which ranged from merino wool and alpaca to light reflective thread. The shimmering light striations on the coverlet are revealed when held at an angle to the light source (or when photographed with a flash).
The Sunrise Coverlet is a one of the oldest American patterns and hearkens to a craft tradition born from immigrants seeking religious asylum. The sunrise and its production is a form of place-making as reference, as image, and as decoration.